Our Product Range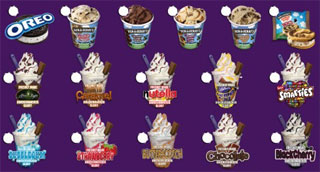 Ellinors serve only the very finest Italian recipe soft whip fresh ice cream with a choice of specialty waffle cones some dipped in chocolate others dipped and rolled in Honeycomb / Smarties / Oreo's. Tubs., Oysters and much much more.
We also offer a wide range of Ben and Jerrys flavours as well as lemon ice sorbet. Classic and new! Walls and Nestle products and never poor quality cheaper copies.
In addition, top off your selection with a huge choice of different flavoured syrups as well as a vast array of rainbow and chocolate sprinkles, various sherbets, chopped nuts, cinnamon, marshmallows and coconut.
We insist only on products that are from reputable suppliers and wholesalers to maintain our very high standards. It is a legal requirement that the caterer can supply food preparation hazard analysis documents along with detailed risk assessment and we are happy to forward all this documentation upon request.
We also have documents available (upon request) detailing the full ingredients of every product we sell. Our staff are very allergy aware and where a customer is food allergic we will be able to identify potential cross contamination issues.