Frozen Cocktail Pops
Nothing beats the fantastic taste of a refreshing cold cocktail and now you can have that same experience in the form of a frozen cocktail pop.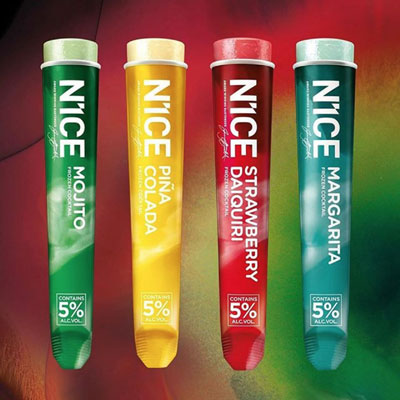 Frozen Cocktail pops are perfect for your wedding / summer party or celebration. You can offer your guests these extra special frozen cocktail or Pimm's selections standalone or as part of a mixed ice cream menu.
The N1ce ice cold and frozen cocktails are cocktail classics and come in 4 varieties:
Margarita
Pina Colada
Mojito
Strawberry Daiquiri
As well as these N1ce frozen cocktails we also offer Pimm's frozen pops as an option for your guests.
Pimm's is an iconic beverage and these frozen Pimm's pops make it accessible at any event. The Pimm's popsicles are made from Pimm's, lemonade, cucumber, strawberries and mint. They are refreshing and super tasty.
Our frozen cocktails or Pimm's options offer your guests that party or summer feeling without the stress of having to mix cocktails but with the huge benefit of serving the perfect ice cold frozen cocktail every time.
Speak to our booking team today to discuss Frozen Cocktail pops at your event.
Get In Touch
*All Pimm's / Cocktail pops are 5% or less alcohol and so no alcohol licence is needed. ID will be required at the point of sale when attending mixed age group events. All cocktail options must be pre ordered as they are not carried or part of our standard menu.