TV and Media Hire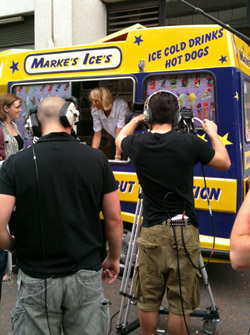 Our modern, smart and clean vehicles present extremely well for television and for photo shoots.
Ellinor's Ice Cream offer many years experience working alongside TV and Media companies throughout the UK. We like to work with you and will understand and listen to your needs, requirements, budgets and aspirations.
In addition to the very best in ice cream van hire, you can be certain of professional and friendly staff who are very experienced in being able to adapt to the demands of working with TV and media organisations. We understand the strict time constraints involved and the need for a flexible approach throughout the production or shoot.
Ellinor's Ice Cream van hire has many satisfied clients, based all over the UK, including ITV1, ITV2, BBC, Cbeebies, Channel 4, Cartoon Network, Square eye media, Beauty Seen, Loose Women and many more.
Hire one of our quality ice cream vans as a prop or working ice cream van for such work as:
Film Shoot
Photo Shoot
Music Video
TV Commercial
TV Show
With modern, high quality and spotlessly clean vans with uniformed staff (if required), we really are the perfect match if you are looking to hire an ice cream van for TV /  film production or photo shoot.
Contact us today to discuss your requirements