Promotional Ice Cream Products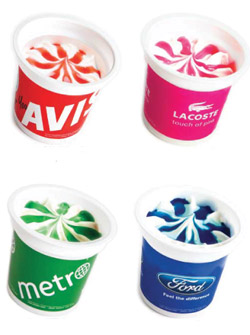 During a promotional campaign, Ellinor's Ice Cream are able to serve your guests the whole of our extensive product range, but sometimes you may want to offer something even more unique.
In this case, we are able to offer a variety of solutions:
Branded promotional Ice Cream Tubs pre filled with  high quality ice cream in a range of flavours to give away.
Branded promotional tubs, as an alternative to a cone which will be filled by our driver and the guest gets to choose toppings and sauces.
Branded Serviettes / Paper towels which can be given to every guest with their ice cream.
Product Inventions – named to suit your promotional campaign.
So you can see, that along with a branded ice cream van, promotional products make a personalised and unique offering for any marketing campaign
Contact us today about your upcoming campaign to see how we can help.