Event Hire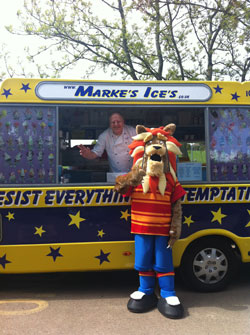 Whatever your event we can supply you with a high quality and modern ice cream van.  Whether its an outdoor event or an indoor event, using the very latest Electric Motor Drive or a simple mobile ice cream cart we will be able to cater for you. Whatever the season, any reason!
We have worked on hundreds of events over the years catering from 20 to 20,000, so no matter what you are planning we can help you. We specialise in fetes, weddings, parties and celebrations of all shapes and sizes and can provide single or multiple vans as an all inclusive / complimentary package or as a standard arrangement with public / paying guests.
Whatever you are looking for we will be able to help, so contact us today.
Fundraising  Policy
Keep the children happy and earn funding for your school, nursery, organisation or charitable group. Use Ellinor's Ice Cream to provide an ice cream van for your fundraising event and you could earn money thanks to our unrivalled fundraising donation policy.
Easter Egg Hunts, May Day, Summer fairs and fun days. Sport's days, discos, Halloween and Christmas. These are just a few examples of fundraising events where choosing Ellinor's Ice Cream will actually make you money.
Below is an example of the sort of events that we have provided an Ice Cream Van:
School fete
Boot Fair
Football tournament
Sporting events
Town / County Fetes
Children's parties
Birthday parties
Anniversaries
Weddings
Dog Shows
Television & Media Events
Community days
Promotional work
Corporate events
Brand Awareness Campaigns
TV & Media Events
Community days
Promotional work
Corporate events
Brand Awareness Campaigns
Team building days
Music events / concerts
Sports days
BBQs
Horse shows
Discos
Shop / Store openings
Town shows
Office parties
Fun Fairs
Beach Parties
Car boot fairs
Markets
Galas
Contact us today.