Corporate Ice Cream Van Hire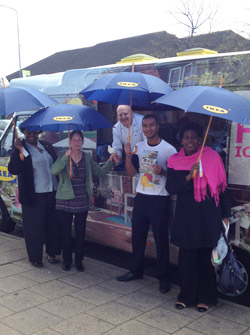 Ellinor's Ice Cream specialises in providing a bespoke service for our corporate customers. We can provide you with single or multiple ice cream vans to assist you for any Corporate event including promotional campaigns, product giveaways, brand awareness, store openings, fun days and team building days.
If you are looking for something a little different we are also able to provide mobile Ice cream trailer kiosks serving a more traditional luxury ice cream experience.
Organisations are always on the lookout for something that will gain people's attention and capture their imagination. An Ellinor's Ice Cream Van or trailer kiosk is the perfect iconic solution for many corporate ventures and campaigns.
For that additional "wow" factor we have the facility to part or fully customise any of our vehicles to transform it into a branded promotional vehicle for your use. See the ice cream van branding section of this site to see the different bespoke options available to you. Both vans and kiosks can be fully branded as required.
Used as part of a corporate event you can choose to offer your clients:
Our full extensive product range.
Choice of modern ice cream vans or more traditional mobile ice cream kiosks
Selected bespoke products chosen by you.
Ice cream creations can be ordered to promote your company profile / products or message.
Fully uniformed staff.
For marketing work we will work closely with you to deliver a completely tailored service to support your promotional campaign. A cost effective and unique way to get your message across, we can offer:
Target your existing or potential clients at the venue of your choice.
Product give aways.
Branded Ice cream van with company logo / advertising campaign or company profile.
Branded products / specific product inventions.
Uniformed staff but we are also happy to wear your branded clothing during the event.
Ellinor's Ice Cream will provide delicious ice cream that will bring the feel good factor to your event allowing you to do what you do best…impress your audience.