Weddings and Celebrations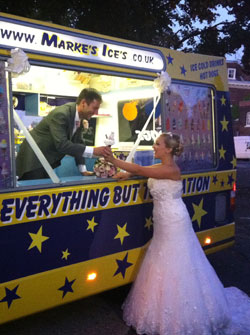 Add an ice cream van to your special occasion and watch your guest's faces light up!
Whatever your special occasion, we can supply single or multiple ice cream vans to suit your celebration. Weddings, 18th / 21sts, Engagements, Anniversaries, Family parties, BBQ's and Stag / Hen nights are just a few of the many and varied special occasions we have attended.
For every event we can tailor a package specific for your needs. You may decide you want an all inclusive package with unlimited complimentary ice creams, or perhaps you would prefer for your guests to pay, or maybe something in between and have a "money behind the bar" type package. The choice is yours.
For weddings in particular we can offer:
Wedding ribbon dressed ice cream van.
Choice of modern ice cream van or more traditional ice cream kiosk.
Fully uniformed staff.
Waiter silver service available.
Product design.
Bespoke wedding window design available.
Photographic option inside / outside ice cream van.
Learn to twirl your first 99 (vans only)
Champagne Sauce!