Indoor and Undercover Events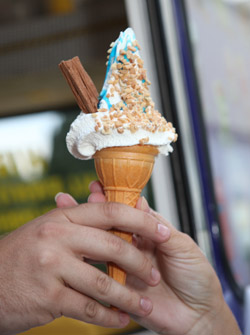 With our modern fleet of Ice cream vans, Ellinor's Ice Cream can also cater for indoor and undercover events thanks to selected ice cream vans fitted with the latest Electric Motor Drives (EMD), a fantastic development and step forward from the standard Direct Drive System (DDS).
An EMD allows the operation of the in-van soft ice cream machine in locations where the constantly running vehicle engine would be inappropriate. By using on-site power the EMD can  operate the soft ice cream machine in these specialist locations such as an indoor or undercover event or a highly sensitive emission location.
The most important element of the EMD is the fact that it generates zero pollution.
As an alternative to a modern ice cream van we can also provide portable mobile ice cream trailer kiosks for a more traditional / vintage ice cream service that are also silent and emission free. These are perfect for indoor events or where a standard ice cream van is not appropriate.
So, even though you have an indoor or undercover event an Ice Cream Van from Ellinor's Ice Cream is still an option. Contact us today to discuss your requirements.