Do You Need an Ice Cream Van Today?
Ellinors Ice cream with their fleet of ice cream vans often respond to instant requests from clients as well as advanced bookings.The British weather often surprises us,the work place and staff getting hot under the collar,with a simple phone call an ice cream van can arrive at your workplace offering either a full menu or selected prearranged menu.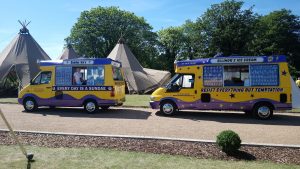 Ice cream Van Hire in London, Ice cream Van hire in Kent,Ice cream van hire in Essex,Ice cream van hire in Surrey,Ice cream van hire in Sussex, Call our booking office today to arrange a visit.